Addicted to juicy celebrity gossip?
(It's ok.. we won't tell anyone.)
If so, you'll definitely want to check out the Movie Star Homes tour in sunny California.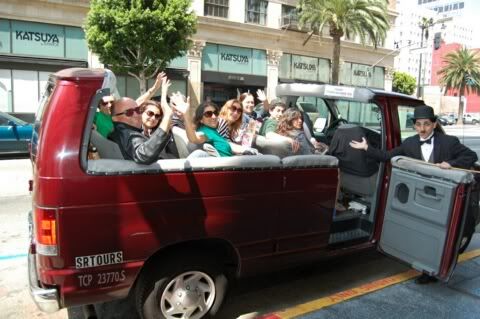 Along the way, you'll cruise through exclusive Beverly Hills and discover what the hottest TV and Hollywood movie stars call home.
Our mini open-top van provides an extremely up close and personable tour of these glamorous residential streets with on-board commentary from a friendly guide.
Drive past these star's elaborate estates, peek through the gates of Bel Air and catch a glimpse of how the other half lives!
Beverly Hills is home to Hollywood's hottest celebrities of the past and present. Because celebrities are constantly on the go and moving around, you never know who you'll see!
Throughout your tour, you may see:
Current Celebrities Homes:
• Jennifer Aniston
• Ozzy Osbourne
• George Clooney
• Jay Leno
• Madonna
• Eddie Murphy
• Pamela Anderson
Former Celebrity Homes:
• Fred Astaire
• Lucille Ball
• Michael Jackson
• Charlie Chapman
• Elvis Presley
• Bing Crosby
• Doris Day
• Cary Grant
If you could see any celebrity's LA home, who would you pick?